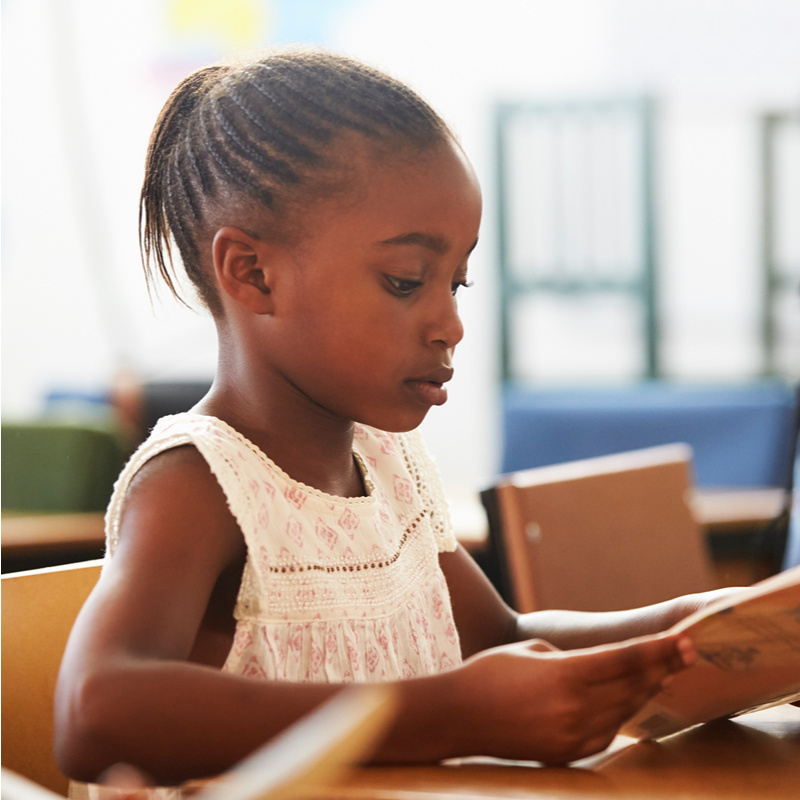 Why does the Excellence In Teaching Award exist?
Celebrate: Top performing teachers change the lives of their students

Reward: Currently, all teachers are paid the same regardless of their results

Retain: 3 consecutive years of outstanding teaching in a high-need school can close the achievement gap for kids

Attract: Teachers are 7x more likely to move out of a high-need school than move into one

Improve: Students in high-need schools often begin the school year 2-3 years behind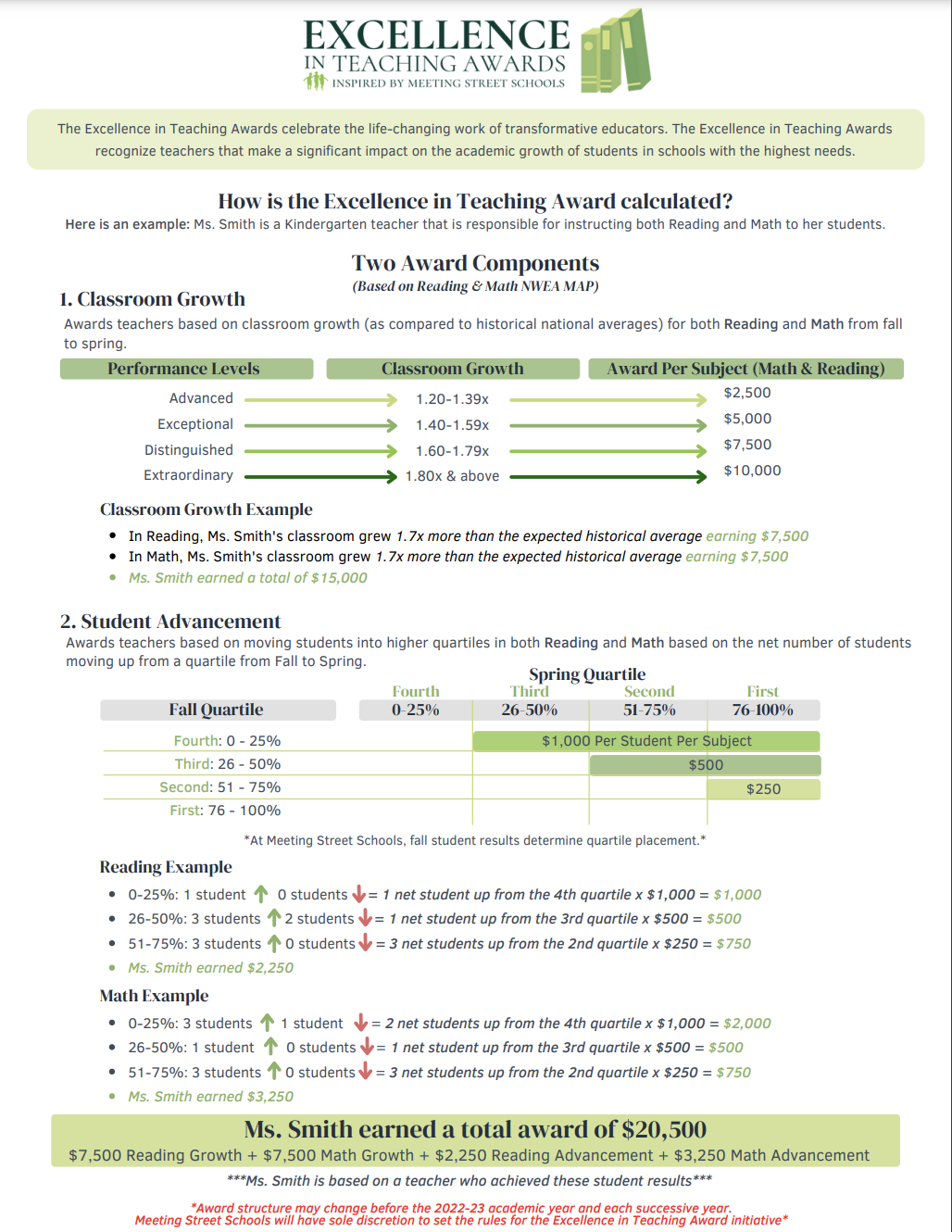 How is the Excellence in Teaching Award Calculated?
The Meeting Street Excellence in Teaching Award is based on students' classroom and personal growth. Illustrated in this PDF is an example of how the Excellence in Teaching Award is calculated using Ms. Smith's classroom. Ms. Smith is a First Grade teacher who is responsible for instructing both Reading and Math to her students.
DOWNLOAD EXAMPLE (PDF)
Frequently Asked Questions
The educator that provides the bulk of instruction for the majority of the school year is typically the educator-of-record.  Unless the classroom is a true co-teaching model, this is usually the core classroom educator who is responsible for delivering, reading, and/or math instruction.  School leaders, usually the Principal, have decision-making authority (within these parameters) for making these determinations.
Setting up teacher-student rosters is one of the most important components of the Excellence in Teaching Awards. In order to calculate potential earnings, these roster relationships must be clear, and must be reviewed and approved by school and program leadership at several points during the year. Rosters are finalized in March. Every student with fall assessment results must be on an educator's roster. Only in co-teaching situations should a student appear on two teachers' rosters.
At this time, only elementary educators (K-5) of reading and/or math instruction are eligible.  That said, Excellence in Teaching Awards are just one part of the total compensation at Meeting Street Schools and its partner schools.  Each continues to innovate in the realm of total compensation, layering-in additional potential compensation opportunities that are available with different eligibility guidelines.
Considering multiple measures of student growth and advancement allows for greater focus and opportunity.  For the Classroom Growth component, the growth of the classroom as a whole is considered.  For the Student Advancement component, the progress of individual students is in focus.  Meeting Street has created "quartiles" as a way of benchmarking starting point, thus spotlighting the importance of differentiation for students that are furthest behind in reading and/or math.
When Meeting Streets School was founded by Ben and Kelly Navarro in 2008, it was always envisioned that sharing and scaling promising practices would be part of its mission.  Challenging the status quo of how educators have been compensated for a hundred years is not easy work, but Meeting Street has never believed that the easy path is the best path for our schools.  Because of the Navarro family's generosity, initiatives such as the Meeting Street Scholarship Fund and the Excellence in Teaching Awards are made possible, thus allowing Meeting Street Schools to fulfill its mission.
In the News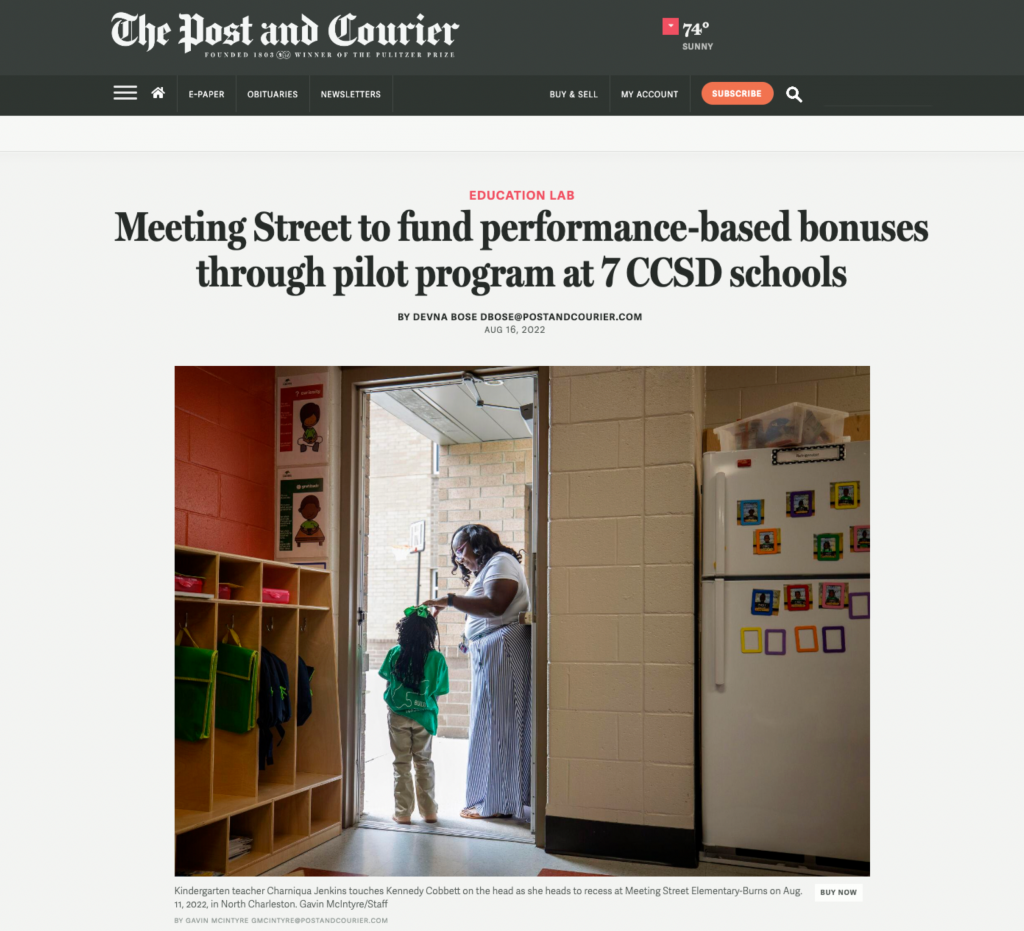 Meeting Street Schools foots bill for massive incentive program
by Live 5 News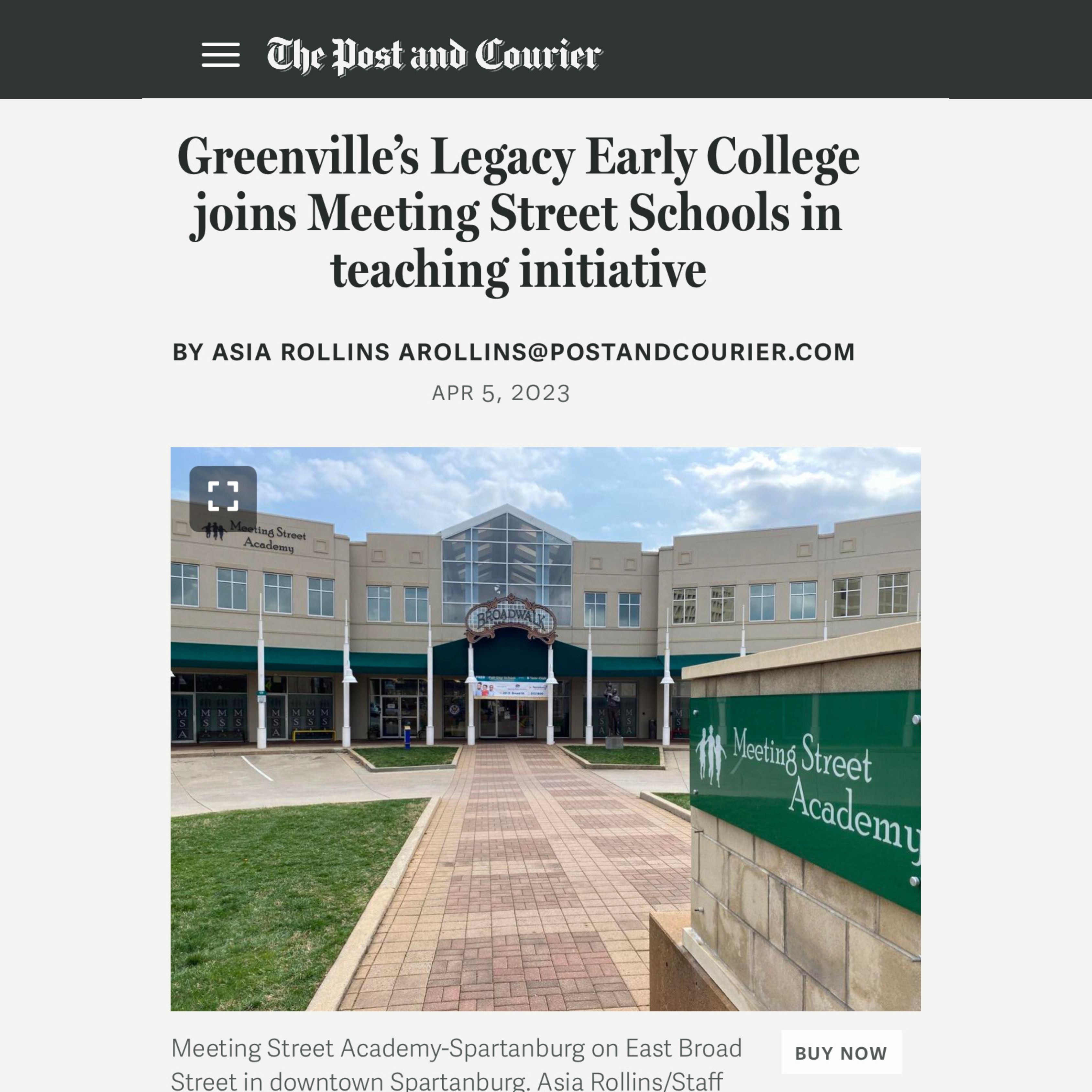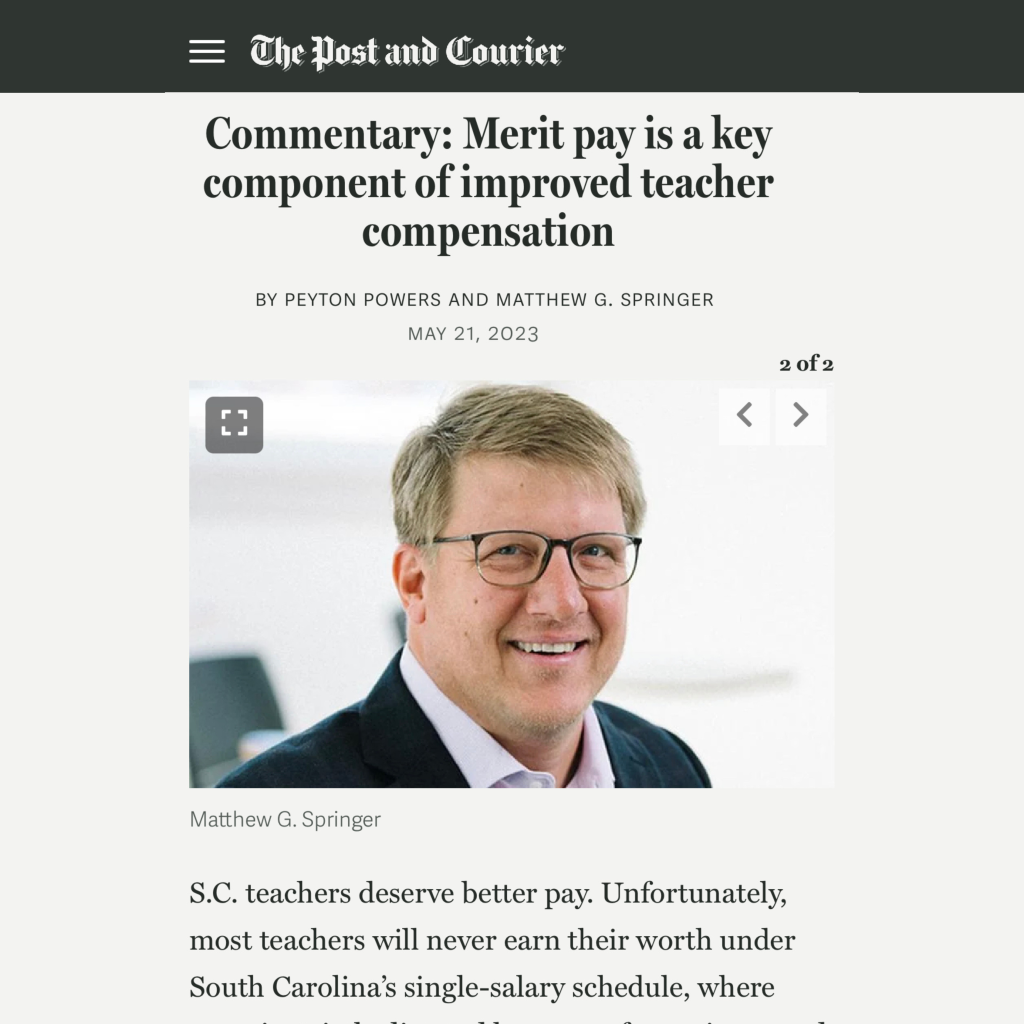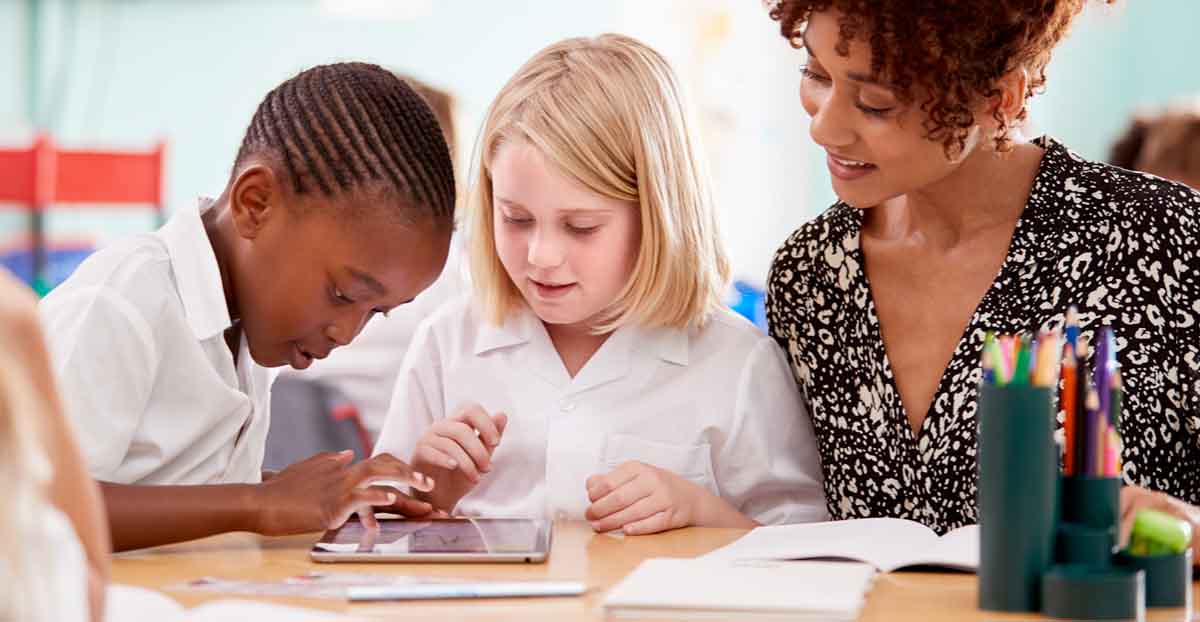 Interested in teaching in a participating school?
For the 2022-2023 school year, participating schools are:
Please contact Charleston County School District to learn more about job opportunities in our partner schools.
Contact CCSD Human Resources